| Item ID | Starting Bid | Bids | Current Bid |
| --- | --- | --- | --- |
| 40281 | $360.00 | 21 | $1,050.00 |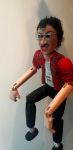 ONE-OF-A-KIND handcarved marionette by Canadian artist Darren Moreash from Halifax, Nova Scotia depicting him from his popular video, "Eat It" parodying Michael Jackson's "Beat It". Signed by "Weird Al" Yankovic, this piece is a valuable collector's item for any Weird Al fan, as well as fine example of Nova Scotia folk art tradition. This work is a true original like Al Yankovic.
Carved from Pine, handpainted and mixed media adornments. Fully functioning marionette with hinged arms, wrists, knees, ankles...ready to be played with but can also be hung up as a work of art easily off the small hook at the top of each handle. Height of the work is approximately 18"